ABC (1965-67)
Edit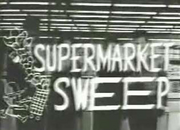 ABC Daytime: December 20, 1965 - July 14, 1967
The original version was filmed in various supermarkets across the country. The front game involved the wives of each couple using cash registers to guess the price of various items; the closest guess won the item and 15 seconds of time to use in the Big Sweep. All couples kept the items in their carts after the Big Sweep, and the winning couple returned for the next game.
The series had some issues during development – the test shows (shown in theaters) had the wives do the Big Sweep, and during the filming of one such show a player had a heart attack. The former was fixed by having the husbands and/or another male relative run the Big Sweep, while the latter resulted in executive producer Leonard Stern adding a rule stating that runners had to be no older than 40 and must have a note from a physician certifying that they were healthy enough to participate in this; Stern himself didn't contribute to the show otherwise, as he was pretty much busy with Get Smart and developing three sitcoms.
Supermarket Sweep wasn't too well-received even when it debuted, and Talent Associates founder/president David Susskind (who had a reputation of "class" shows) quickly noted to TV Guide that while the show kept his company afloat and made some profit, he wasn't involved. Indeed, he wasn't there when Al Howard, Sy Fischer, and Jerome Schnur pitched the show to Ed Vane (ABC's then-vice president of daytime programming), and Talent Associates really only agreed to produce the show because they were hemorrhaging money from Get Smart due to production issues with Don Adams.
In the end, Supermarket Sweep did reasonably well for itself, running 19 months before being replaced by The Honeymoon Race, which had the same on-air personnel and was by the same production company. The new show had couples driving around a mall to complete various silly stunts.