Phone Game was an interactive game where fans of Supermarket Sweep could call in or write to the show in order to answer product related trivia questions in an effort to win upwards of $5,000!
Offered only in June-July 1991, the Phone Game involved the home audience answering a question. Players who answered correctly were placed into a drawing in which one lucky viewer received $5,000!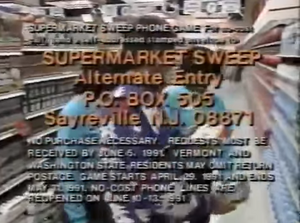 Supermarket Sweep Phone Game For no-cost call, send a self-addressed stamped envelope to
SUPERMARKET SWEEP
Alternate Entry
P.O. BOX 505

Sayreville N.J. 08871

No purchase necessary. Requests must be received by June 5, 1991. Vermont and Washington State residents may omit return postage. Game starts April 29, 1991 and ends May 31, 1991, no-cost phone lines are reopened on June 10-13, 1991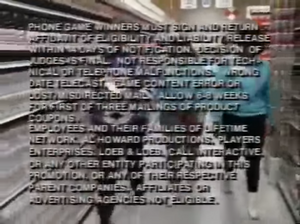 Phone Game winners must sign and return affidavid of eligibility and liability release within 14 days of notification. Decision of judges is final. Not responsible for technical or telephone malfunctions. Wrong date telecast, game content error or lost/misdirected mail. Allow 6-8 weeks for first of three mailings of product coupons.
Employees and their families of Lifetime Network, Al Howard Productions, Players Enterprises, Loeb & Loeb, Call Interactive, or any other entity participating in this promotion, or any of their respective parent companies, affiliates or advertising agencies not eligible.
For contest rules or a list of winners send a self addressed envelope to

SUPERMARKET SWEEP
"Rules" or "Winners"
P.O. BOX 505

Sayreville N.J. 08871