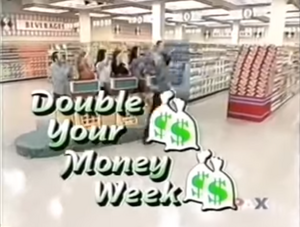 "Double Your Money Week"
was a special
tournament
on
Supermarket Sweep
. The team who won this tournament earned an automatic $10,000 at the end of the week.
It was similar to the few early "Sweep of Champions" episodes from the Lifetime version, except in the PAX version the winning team with the highest Super Big Sweep total at the end on the final day didn't have to run around the market looking for another $5,000 as in early "Sweeps of Champions" episodes, they automatically doubled their money to $10,000.
"Double Your Money Week" made its debut during the week of November 20, 2000. It appears again during the week of December 31, 2001 and was used one last time, during the week of May 19, 2003, the week of the series' final episode.
Day #1 - November 20, 2000
Edit
Day #2 - November 21, 2000
Edit
Day #3 - November 22, 2000
Edit
Day #4 - November 23, 2000
Edit
Day #5 - November 24, 2000
Edit