This article is not part of the American Supermarket Sweep Television Series.
This article covers a subject or facts that are not part of the American version of Supermarket Sweep, but instead are a part of versions of the show released internationally.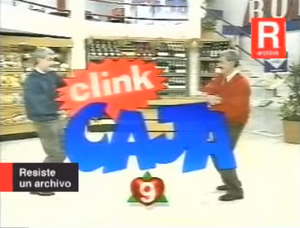 Clink Caja is the second Argentinian version of the American Supermarket Sweep television show format. Appearing only in 1996, Clink Caja was hosted by Berugo Carámbula, and replaces Sume y Lleve, the original Argentinian version which aired from 1987 until 1988.
Differences
Edit
Ad blocker interference detected!
Wikia is a free-to-use site that makes money from advertising. We have a modified experience for viewers using ad blockers

Wikia is not accessible if you've made further modifications. Remove the custom ad blocker rule(s) and the page will load as expected.